Ever feel like this?  The kids, your husband, school, the house, cooking, volunteering, church… the list goes on and on.  There are 24 hours in the day, and you feel like you're in movement during all of them.  Even in your sleep, you are dreaming about lesson plans and recipes and…  Yeah.  Been there too.  Women tend to be the caregivers of the world.  It's how God created us, and it makes us powerful.  The had who rocks the cradle, rules the world.  And sometimes, ruling the world just gets to be a bit much.  Do you remember the last time you got a haircut?  Painted your nails?  Took a bath?  Finished a book (that was written for an adult, and DIDN'T have anything to do with school)?  Had an uninterrupted phone conversation?
Been that long, huh?  So, what do you do when it gets to be too much?  Here are some practical steps you can take:
First, instigate a quiet time EVERY DAY.  Even if your kids are way past naps.  Even if your kids are teenagers.  Every day, an hour or two, complete quiet.  They can nap, read a book, or work on art.  (Quiet art… music practice doesn't count.)  They can do anything they want– as long as it's quiet.  This works REALLY well for me, and it's essential to me not losing my mind daily.  I love my crew, and I wouldn't trade anything in the world, even a quiet, clean house, for any of them.  But… I do get sensory overload.  And with 3 toddlers running around, it's getting worse.  Having a daily quiet time lets me reset and reconnect every day, so I can take on the rest of our day.
Take a field trip.  Shake things up a bit.  Can't get out?  Plan a movie day instead.  We did this all of the time in my public schools.  We just called them "class parties."  Who says you can't have a class party?  Get some Sprite, some popcorn, and settle in.  Let the kids have a fun day, and go mind-numb for a while.
There is this great place in modern society called… Starbucks.  It's a wonderful place where you can go, hook up your laptop, and read your email without someone asking you if they can play Timez Attack.  Again.  And, in these awesome wonderlands of adult atmosphere is the international Christmas signal that all is once again right with the world– the Red Cup.  Yes, head yourself to Starbucks and splurge on a ridiculously overpriced latte (I prefer a chai eggnog latte this time of year) and a matching overpriced baked good, and feel like a grown up again.
If there is no Starbucks near you, you have my immediate and unsurpassed condolences.  (((Hugs)))  I'm sure there is something out there that you can find, though, even if it's just gas station coffee that you didn't have to make, and a really good view.  Go find it.  Where ever you can feel like an adult in your own right again, not just Mom.  Or Honey.  Or both.
Get your BFFs together, and get away for the weekend.  Chances are if you need it, they need it to.  You don't have to go far, and you don't have to go expensive.  Just you and your girls, in a nicer hotel than you're used to, with a nice dinner, a bottle of wine, mucho chocolate, and an uninterrupted Downton Abby marathon.  Sounds like heaven, doesn't it?
If you're more of a loaner, do the same thing, sans the girlfriends.  That's what I usually do.  The quiet, no pressure, no need to compromise or  consider anyone else for one night–it's the best refresher in the world.
Once a year, I do try to get away for a long weekend.  Usually, this involves a homeschool convention.  Now, whether or not you count this one is up to you.  I can tell you that when I get back, I do feel refreshed and ready to tackle anything!  The encouragement, the ideas, the curriculum… it's energizing!  However, as my kids get bigger, I'm wishing more and more that they were there to enjoy the kids' program.  And there's a lot of stuff that I wish my husband had heard first hand.  But, I also have a lot of littles, who aren't ready for the kids' program yet, and can't be relied upon to sit quietly for a bunch of workshops.  So, for now, I go alone.  Eventually, though, we'll begin taking the family.
And I will hit the big convention in Cincy this year.  Yes, I will.  And it will be epic.  (She says for the third year running… still haven't gone…)
I hope these ideas have gotten your wheels turning.  The fact is, as moms, homeschoolers, wives, church members, sisters in Christ, and the thousand and one other hats that we wear, people rarely stop and ask us what we need.  Sometimes, we've got to be our own advocate.  Don't be afraid to do this!  Even Christ had to retire from the crowd once in a while.  It's not a sin for you to need to, too.
The last thought I want to leave you with is this.  You don't ask for help, and you don't get it.  You're overwhelmed, but you feel guilty about it.  I hope you're starting to move a bit past that… but I guarantee you know someone who is stuck there.  They need help, and don't know how to ask.  Offer it up instead.  Share this post, or any of the posts on this week's TOS Crew Blog Cruise.  Take her out for coffee.  Let her vent– WITHOUT offering advice.  Don't tell her how she's wrong, don't lend her a book… just listen.  It can make all of the difference in the world to her.
Now, share with me!  What do you do to care for yourself?  Is there a special ritual you have?  A special place you go?  I'd love to hear about it!  Come and check out what other Crew Members had to say about taking care of yourself!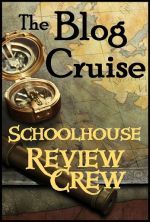 If you enjoyed this post, get email updates (It's Free)