Heroines of the Past
is a 13 week Bible study for girls ages 8 and up and their mothers written by
Amy Puetz
and released by
Golden Prairie Press
.  The e-book profiles women heroes of history in the light of Proverbs 31, highlighting their virtue and great deeds.  My daughter, Kaitlyn, and I were honored to work through this study together.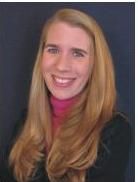 Amy Puetz is a Christian homeschool graduate and self-taught historian who has a passion for telling history through a Christian worldview.  Ms. Puetz especially enjoys finding little-known stories and sharing them, and she's written quite a few books to this end, including the Heroines of the Past series, Uncover Exciting History, Costumes with Character, and Girls of the Mayflower.  Ms. Puetz' website has a host of wonderful resources for teaching history to boys and girls.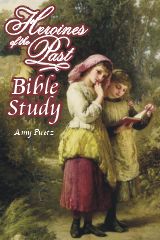 Kaitlyn and I had the opportunity to review the Heroines of the Past Bible study.  There are 5 days worth of devotionals in each week of the study, totaling 13 weeks.  Each study tells a story, or part of a story (some of them last 2 to 4 days) of a great woman of history, some of them not very well known.  At the end of each day's devotional there are study questions to discuss or write in a special journal and verses to look up.  There is a weekly memory verse, and the suggestion for a Box of Visual Reminders, small mementos of your study that give you and your daughter a visual reminder of each woman profile.
We did our study during quiet hours, when our very little ones were asleep.  It gave Kaitlyn and I a dedicated time together, so very important at this age, and walked us through subject matter.  This is important to me.  If I try to just sit and talk, we tend to talk about nothing at all, and shortly we're both bored and on to something else.  Having a subject handed to me, or at least a starter subject, is a huge relief.  This would be perfect for a mother who is hoping to instil a daily or weekly tea time with her daughter, or a weekly "date night."
We work through our study, discussing the questions and looking up the verses as we go.  Oftentimes, the study leads us into a deeper study of the history of the moment.  For example, when profiling Elizabeth Zane, heroine of a battle at Fort Henry, we discussed the man who lead the Native American raid on the fort, Simon Girty, and read a short biography of him, learning that history is never black and white.  Simon Girty was kidnapped and later adopted by a Native American tribe, and at different times sided with both the British and the Americans in the Revolutionary War.  His story is fascinating, and multifaceted.  We learned a lot about the political situation at the time.  Eventually, he was denounced as a traitor to the Americans.
The language in the book seemed a bit dated for me.  For example, Native Americans are referred to as "Indians," and Africans are "blacks."  We don't tend to shy away from non-politically correct language in our home, especially in regards to history, however.  Instead, we use it as a springboard to show how language has changed, and why we don't generally use certain terms anymore.  And, it did keep with the feel of the stories.  The book covers not only American heroines, but great women such as Princess Edith (later known as Queen Maud), martyrs such as Blandina, and other wonderful women worldwide.  (Note:  Some of the stories, particularly of the martyrs, were quite disturbing for Kaitlyn.  A pre-read is definitely in order if your daughter tends to be sensitive.)
Kaitlyn has been truly affected for the better by this study.  After the first profile, a 3-part story on Princess Edith, she came to me in tears, wanting to know how she could be brave like the Princess.  That, of course, launched a wonderful discussion into what bravery is, and where our strength comes from.  I can see her really striving to be like these women who have done such great things with their lives.  It's comforting to know that she now has such virtuous women, many that I've never heard of, as her heroes now.
Heroines of the Past is available in e-book (available in mobi [Kindle], PDF, or epub) or paperback formats (both $27.00).  The paperback format has over 50 illustrations.  In addition, there are six other unit study books available for studying women in a particular time period, such as the Victorian Age, Pilgrims, Pioneers, and the Civil War (each available in e-book format for $14.95).  I think those will be awesome additions to our studies as we reach those periods in history.
We have really enjoyed our time with Heroines of the Past, and are looking forward to using other period-specific resources from Golden Prairie Press. You can get a free 3-week study (15 lessons long) of Heroines of the Past by signing up at the Golden Prairie Press homepage.
JUST IN:  Golden Prairie Press is having a back-to-school sale!!  The sale ends on September 1, though, so hop on over there now and take a look!


If you enjoyed this post, get email updates (It's Free)