Once upon a time, there was a mom who refused to let her children have toys with batteries.  If they were given such toys, she took them out, and made her children use their own imaginations, rather than relying on toys to imagine for them.  And that Mom believes wholeheartedly in that concept, but as her older children grew, and she had a bunch more littles, that Mom embraced her inner Techno-Geek and became….
Super Techno-Mom!!!
OK, not really.  Really, I got sick of the kids asking to be on my computer.  Kids today, I swear, are born wired in.  It's rather creepy, if you think about it.  Very Matrix-y.  But, it is what it is.  I believe wholeheartedly that the world around us is changing.  Our approach to technology must absolutely keep up with the world around us.  We've got to teach our children how to keep up.  Not because it's sooooo much better than "the way I used to do it," but rather because if we don't keep up, eventually we're going to fall behind.
Please, don't be that guy.  And, please, for the love of Pete, don't let your kids be that guy.  Technology isn't going away.  Barring a Zombie Apocalypse, the internet is pretty much here to stay.  How do I know?  'Cause you're reading this.  Then you're going to share it on Facebook.  If I'm really lucky, you'll hit Twitter with it, too.  See how that works?
OK, so, we know that we're going to need to teach our kids about technology, but how do we do that without 1) them becoming completely dependent upon said technology, and 2) exposing them to EVERYTHING that is out there?   Well, I can show you what we do.  Take it, tweak it (just like everything else), and embrace your inner techno-geek, too!
First, our kids have their own devices.  This is because my Mommy never taught me moderation online, and I'm hard wired in permanently.  That, and I trust them with my new Mac.  So, they have their own stuff.  (Or, rather, they're getting them for Christmas…)  Plus, it keeps the fights to a minimum.  Someone can't complain that so-and-so broke the tablet… because everyone is responsible for their own.  Ruin yours?  Bummer.  The child can buy a new one, without everyone suffering in the meantime.  We like the Nabi 2 tablets, and you can see why here.
One of the biggest reasons why we love them is how much parental control there is on them, and that helps keep the kids safe.  We did get the kids tablets last year for Christmas, but they were REALLY bad quality.  The screens didn't even work.  So, lesson learned, spring for something your kids can learn.  And, my kids got into a bit of trouble with them.  Lesson 2), get something that you can have full control over, and something the kids can't work around the parental controls on.  Make sure that YOU understand the parental controls, though, and make sure they're fairly easy to use.  Because, honestly, we're busy.  If it's not easy to use, you know you aren't gonna do it.
Next, we're moving a lot of our big kids' schooling online.  Kaitlyn takes a weekly live course with Memoria Press for writing.  Both of the kids use Khan Academy (which is free–score!!), and we're finishing up our unit on The Pilgrim Story with Dayspring Academy.  Even the online games and fun stuff the kids are allowed to do online is educational.  We're using Samson's Classroom, Reading Kingdom, Speekee TV, and KinderBach,  all of which are online.  My 3 big kids each have memberships at safe sites we trust for gaming.  We love Always-Ice Cream/Clever Dragons and ZooWhiz.  The games on both of these are educational, and with Always-Ice Cream/Clever Dragons, they're able to explore social networking in a safe way.  Also, we put Kindles on the kids' tablets, so that they can have access to a ton of books.  I'm not a huge e-reader fan, but it is what it is.  I see the appeal, and I figure they're probably the wave of the future, so, the kids might as well use them now.
Putting more of our school online helps us in a lot of ways.  First of all, having everything in PDF format or on e-readers helps us cut down on the sheer number of books we have.  Now, while I'm a complete bibliophile, and my ideal decorating is floor to ceiling bookshelves stocked to the brim with books on every wall… my husband disagrees.  And, they are rather hard to move.  Tablets and e-readers are also much easier to transport.  Books get ruined and forgotten in the black hole that is my van, and little ones are just hard on paperbacks, especially.  There's nothing like the fury of a big sister who just had a little destroy her favorite novel.  And, it's easier on me.  If there's a subject that I just can't teach well (writing comes to mind…), there is usually an online class that I can find to help me teach it, or, better yet, teach it for me.
Finally, use common sense.  A lot of people have noticed behavior problems as their kids' screen time increases.  If this happens for you, unplug for a week or a month or more, whatever it takes to get everyone re-centered.  Make sure you do have lots of toys around that require your children to use their imaginations, and limit the amount of screen time your kids have.  There's nothing wrong with not allowing toys with batteries.  I still do prefer that for our toys.  I want our toys to have lots of uses.  But, as time goes on, I see how my big kids, especially, do so well with technology.  Do use parental controls.  The internet is not bad, but there are bad things on it.  Like everything else, take precautions to protect your children.
Technology is not innately evil, and it's nothing to fear.  Like everything else in our sinful world, it can be used for good, or it can be twisted and perverted and used for evil.  The beauty of it is, how it's used in your home is entirely up to you.  Please don't fear technology. Embrace it, and use this amazing tool to help your children learn about the world and people around them!  Leave me a comment!  How do you use technology in your school?
Wanna see how the rest of the Crew uses technology in their homes?  Click the button below, and find out!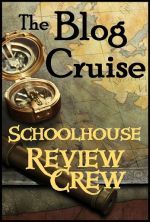 If you enjoyed this post, get email updates (It's Free)