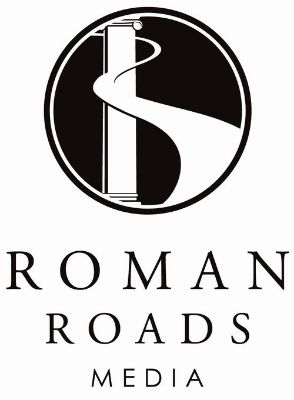 Roman Roads Media
is the producer of some really wonderful classical Christian education courses in DVD format.  We LOVE the products we've used already from them, and were very excited to be able to review
Dave Raymond's American History Part 1
.  American History is not my favorite era of history (I know, don't judge me!), so finding a good, comprehensive video series that will keep them engaged is awesome.  
Dave Raymond's American History
fit the bill, complete with videos, readers, and a portfolio project for the kids to complete.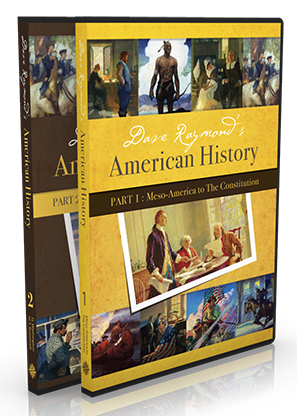 Dave Raymond's American History
is available in two parts on DVD, and soon, in downloadable format, and comes with 26 video based lessons (broken up into Part 1 and Part 2–13 lessons each), along with student readers and a teacher's guide in ebook format.  The readers and guide come in a number of different formats, including ePUB, MOBI, and PDF, which I love.  It makes it easy to download them to any device I need to, and send it to everyone who needs it's Kindle or whatever they're using at that moment.  Very, very, convenient.  Part One covers MesoAmerica through The Constitution, and Part Two covers George Washington through Theodore Roosevelt and Booker T. Washington.  Together, following the lesson plan, it is worth 1 high school US History credit.  For this review, we used Part 1, and have just finished learning about the Puritans.
Each lesson has 5 parts, and, ideally, you complete 1 part a day, finishing one lesson a week.  There are projects, speeches, research papers, and a portfolio to be completed, and the teacher's guide gives you plenty of ideas to help your student along.  Each day, there is a 10-15 minute video to watch, followed by an assignment, reading, and/or portfolio work.  In the teacher's guide, there are exam questions for you to evaluate your student after each lesson.  We found the videos to be engaging and have really enjoyed them.
The portfolio is a huge part of the curriculum.  Mr. Raymond really stressed that this should be very well done, and something that the student will be glad to show people.  Some of the portfolio work, such as sketching navigational instruments with a compass, are quite difficult.  It really drives home the lesson, though, and I think it's a wonderful tool.  It reminded me a lot of how we approach our main lesson books, and I love this part of the curriculum.  Note taking was also introduced, which I appreciated.  We've worked a lot on note-taking this year, and I think they're really improving in this aspect.
Although Dave Raymond's American History is suggested for grades 6th and up, I would put this at a high school level, or possibly, 8th grade, depending on the student.  It is quite rigorous, and the expectations are set high.  Since it does give you a high school credit, it seems best to me to wait until I can actually use that credit.
Dave Raymond's American History Part 1 is available for $100 at Roman Roads Media. Part 2 is another $100, but they are an outstanding value, IMO, in that this set is very well done, and able to be used through multiple children.  ((NOTE:  At the time of this writing, each part is on sale for $75!  That's a great deal, and I really recommend taking them up on it!)  There is a sample lesson available, so do make sure you look through it and see what you think.  Although we won't be using it again for at least a year or two, I am starting to collect courses from Roman Roads Media to use in our high school.  I'm very happy with this, and everything I've used of theirs, and are excited to continue with Roman Roads Media.
Want to see what the rest of the Crew thought about their products from Roman Roads Media?  Click the banner below to find out!